We are excited to announce our new community-wide study, A People of Grace. This church-wide study explores the amazing grace of God and defines the purpose of God's grace in our lives. Sam Barber introduces a new and effective method for discipleship that guides Christ followers along the path of effective discipleship for both themselves and those they will lead to faith.
We hope these resources continue to help bring your community together.
Here is a quick sneak peek at what is included in this community-wide study: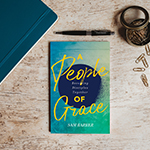 A People of Grace: Becoming Disciples Together
The call of Christ to be and make disciples is straightforward and clear. Based on the understanding that we need one another in order to grow in holiness and help others do the same, A People of Grace opens the door to the wonders of God's transforming love through group accountability.
A People of Grace is also available in discounted packs of 5.
A People of Grace: A Pastor's Resource
Use the Pastor's Resource alongside the book to guide your faith community through this study. This downloadable resource for pastors includes leader's guides, student handouts, and sermon outlines. Also included are promotional materials to use in your church as you prepare for your seven-week church-wide study.