A Rubbermaid tub is no place for the world's greatest explorer to spend his holiday, but that's exactly where we found him. We were two children's pastors trying to organize a closet filled with dusty tubs of old puppets, but organizing a closet is super boring. So we started to play with the puppets instead. That's how we uncovered this puppet with fuzzy blue skin, a wispy purple beard, and only one eye—more specifically, one googly eye.
This bearded humanoid lay on his back, flat mouth flopped wide open, his googly eye gazing directly into nowhere. Even in his current flimsy state, we could see his humble bravado. We named him Sir Neil the Gentleman Explorer. As he came to life, he shared his adventurous exploits—like paddling across the East Arctic Sea in a shoebox filled with Norwegian skunk worms. We were hooked. We had to use him in our kids' service.
But first, we had to do something about that missing googly eye. There was a very noticeable clump of crusty, crinkly felt where his second eye used to reside. It was unsightly—hideous, really. We didn't want to gross out the kids or scare the adults, so we fastened a black eye patch to cover the craggy void. Just like that, the legend of Sir Neil was born.
Children's leaders are always finding ways to involve characters in ministry. Puppets and cartoons get all the headlines, but those aren't the only characters roaming the halls of our churches. Sometimes they come to life as a drawing on a dry-erase board. Sometimes they're cut out of a piece of felt, and sometimes they simply come alive through imagination and the art of storytelling.
Kids form relationships with these characters. Sometimes the connection lasts weeks, months, or years. Kids think about their favorite characters during the week and can't wait to see them again. They relate to them, enjoy their company, and learn from them. Many times the kids are actually the ones teaching the characters.
That's why we wanted the help of some fictional friends for the Eureka! curriculum. We tossed around lots of different ideas, but we always came back to our bearded friend from that Rubbermaid tub. Sir Neil was born to make discoveries through courageous exploring and adventurous questing. He was the perfect fit for Eureka!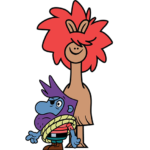 Sir Neil's exploring partner is an alpaca named Pam. Sir Neil and Pam host the Older Elementary level. Pam speaks with honks and grunts, but Sir Neil understands every wise and raucous noise she utters. The only thing with more style than her red-hot hair is her hot-rod moxie. Sir Neil might eat danger for breakfast, but Pam eats six ham burritos, five alfalfa biscuits, and three pints of double-chunky beet juice for breakfast.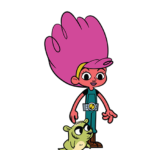 Niki Knack and her sidekick, Kiwi, lead the adventuring charge with the Younger Elementary level. Niki's unquenchable desire to explore is matched only by her unrelenting ability to invent. She graduated from the University of Bravery and Accomplishment with degrees in Dubious Peril Escaping and Adventurous Inventing. You probably own a pair of her Blaster Boots because—who doesn't?
Kiwi, Niki's sidekick, has excessively fearless spunk and surprisingly short legs. He's mastered every form of ninja arts, plus one that won't be invented until the summer of 2056. Between expeditions, he pops into the recording studio and lays down a Bible verse to music. He calls them Remember Verses, and those songs are what made him the reigning champion on Musical Ninja Warrior. Oh, and Kiwi is also a gerbil.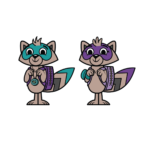 Kai and Scout, the raccoon twins, lead the Preschool and Kindergarten level. They love running from expedition to expedition, looking for new places to jump, climb, build, and play. Kai wears his Eureka! compass around his neck because, he says, "I like to swing it around my head when I get bored." Scout straps her compass to her wrist. "That way it won't tangle in the branches when I climb trees and stuff."
Sir Neil, Pam, Niki, and Kiwi each share their unpredictable adventures with the elementary levels, challenging kids to use Bible-exploring tools and questions. Kai and Scout get the younger crew ready to explore with "The Come Along Song," and then personally lead the junior explorers through the Bible story. The whole Eureka! gang inspires kids to explore God's Word and discover God's love.
Sometimes I wonder if Sir Neil ever thought he'd grow from a one-googly-eyed puppet in a plastic tub into the world's preeminent exploring hero speaking 247 different languages and taking advice from a quadruped named Alpaca Pam. Who are we kidding? He was planning it all along. He's Sir Neil the Gentleman Explorer.
---
To learn more about Eureka! and to download a free sample, go to EurekaCurriculum.com!