If you're anything like our family, I imagine your late-summer days have been filled with outdoor activities, ice cream treats, and riding bikes past eight o'clock in the evening. Homework, dark winter nights, and snow boots are but a distant memory. It would be odd for us to start thinking about Christmas lists or stocking stuffers or holiday cards at this time of year. Besides the occasional, resigned acknowledgment that our Christmas lights have not yet been taken down and are now unlikely to be taken down before next Christmas, I have not spent even a minute thinking about the Yuletide season.
My point is this: rarely do we find ourselves meditating on the meaning of Christmas—the birth of Jesus Christ—when it is still four months away. We typically limit our Adventing to the month of December. If the purpose of the season of Advent was simply to reminisce about the days leading up to Christ's birth, perhaps this would be adequate. However, Advent is a spiritual practice where we continually and actively posture ourselves in anticipation of the return of King Jesus—his second glorious coming. This attitude of faithful waiting before the Lord is not just seasonal; it is our daily living.
The Foundry Publishing asked Albert and me to co-write this year's Advent devotional book, Born the King. We felt it was essential to frame the devotionals in a way so that "Adventers" can engage with preparing their hearts for the celebration of Christ's birth as well as his return. Our hope was to instill spiritual practices that would form our hearts and habits beyond the Christmas season. How do we bend a knee to the Kingship of Christ in every part of our lives, throughout every part of the year? How do we partner with God in kingdom work where our actions demonstrate an expectation of the Lord's power here "on earth as it is in heaven"?
Born the King is a four-week devotional journey that weaves together Scripture, stories, prayer, and interactive moments that draw us to engage with a Savior whose majesty proclaims the coming of the Kingdom. It would be our privilege if you would allow us to walk alongside with you, your family, and/or your congregation as you prepare your hearts this Advent season. We have already been praying for you. May the Lord do a deep work in our hearts, our minds, and even our bodies—through God's Word, through shared stories, and through the faithful response of God's people waiting in expectation for the return of him who was Born the King.
---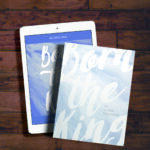 Born the King is now available. If you would like to use this resource for your entire church community, we offer a downloadable pastor's resource and children's ministry resource. The devotional and children's storybook are also available at 50% off, when bought in bundles.