Last year, we released our first downloadable pastor's resource for Lent. We continue to hear how vital these resources are for both Advent and Lent each year and are encouraged by your commitment to be in the Word and actively participate in the life and calendar of the Church.
For Lent this year, we are providing both a pastor's downloadable resource and an individual devotional. The individual devotional, For God So Loved features reflection by Dan Boone, Samantha Chambo, Tara Beth Leach, and Jeren Rowell. The devotional is also available at a 50% discount in packs of 10 for faith communities.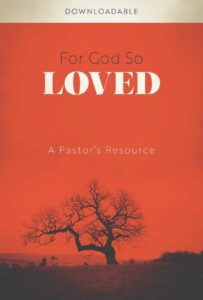 The downloadable resource includes weekly sermon outlines, small group discussion guides, children's teaching outlines, and family worship activities. There is also service outlines and family worship activities for Ash Wednesday, Maundy Thursday, and Good Friday and a Lenten reading plan for individuals. A scripture art journal for children, powerpoint backgrounds, a promo video and social media graphics are also included to help your community engage with the Word and each other.
Lent is a time of preparation, to draw ourselves closer to God. For God So Loved invites you to join Christ on his final earthly journey as you rediscover the very reason we remember and undertake this same pilgrimage year after year. Beginning Ash Wednesday and ending Easter Sunday, For God So Loved provides resources for pastors and communities to move closer to Christ through worship, prayer, reading, and participation.
Below you will find the reading plan, which is also included in the pastor's download for For God So Loved. We look forward to walking through this season together.
---
Week 1
ASH WEDNESDAY, MARCH 6, 2019
Scripture Reading: Isaiah 58:1–12
Additional Scriptures: Joel 2:1–2, 12–17; Psalm 51:1–17; Matthew 6:1–6, 16–21; 2 Corinthians 5:20b–6:10
THURSDAY, MARCH 7, 2019
Scripture Reading: Psalm 91:1–2, 9–16
Additional Scriptures: Exodus 5:10–23; Acts 7:30–34
FRIDAY, MARCH 8, 2019
Scripture Reading: Exodus 6:1–13
Additional Scriptures: Psalm 91:1–2, 9–16; Acts 7:35–42
SATURDAY, MARCH 9, 2019
Scripture Reading: Ecclesiastes 3:1–8
Additional Scriptures: Psalm 91:1–2, 9–16; John 12:27–36
Week 2
FIRST SUNDAY IN LENT, MARCH 10, 2019
Scripture Reading: Luke 4:1–13
Additional Scriptures: Deuteronomy 26:1–11; Psalm 91:1–2, 9–16; Romans 10:8b–13
MONDAY, MARCH 11, 2019
Scripture Reading: Psalm 17
Additional Scriptures: 1 Chronicles 12:1–17; 1 John 2:1–6
TUESDAY, MARCH 12, 2019
Scripture Reading: 2 Peter 2:4–21
Additional Scriptures: Psalm 17; Zechariah 3:1–10
WEDNESDAY, MARCH 13, 2019
Scripture Reading: Job 1:1–22
Additional Scriptures: Psalm 17; Luke 21:34–22:6
THURSDAY, MARCH 14, 2019
Scripture Reading: Philippians 3:2–12
Additional Scriptures: Genesis 13:1–7, 14–18; Psalm 27
FRIDAY, MARCH 15, 2019
Scripture Reading: Philippians 3:17–20
Additional Scriptures: Psalm 27; Genesis 14:17–24
SATURDAY, MARCH 16, 2019
Scripture Reading: Psalm 118:26–29
Additional Scriptures: Psalm 27; Matthew 23:37–39
Week 3
SECOND SUNDAY IN LENT, MARCH 17, 2019
Scripture Reading: Psalm 27
Additional Scriptures: Genesis 15:1–12, 17–18; Luke 9:28–43a or Luke 13:31–35; Philippians 3:17–4:1
MONDAY, MARCH 18, 2019
Scripture Reading: Exodus 33:1–6
Additional Scriptures: Psalm 105:1–42; Romans 4:1–12
TUESDAY, MARCH 19, 2019
Scripture Reading: 1 Corinthians 10:1–13
Additional Scriptures: Numbers 14:10b–24; Psalm 105:1–42
WEDNESDAY, MARCH 20, 2019
Scripture Reading: Luke 13:22–31
Additional Scriptures: 2 Chronicles 20:1–22; Psalm 105:1–42
THURSDAY, MARCH 21, 2019
Scripture Reading: Psalm 63:1–8
Additional Scriptures: Daniel 3:19–30; Revelation 2:8–11
FRIDAY, MARCH 22, 2019
Scripture Reading: Revelation 3:1–6
Additional Scriptures: Psalm 63:1–8; Daniel 12:1–4
SATURDAY, MARCH 23, 2019
Scripture Reading: Luke 6:43–45
Additional Scriptures: Psalm 63:1–8; Isaiah 5:1–7
Week 4
THIRD SUNDAY IN LENT, MARCH 24, 2019
Scripture Reading: Luke 13:1–9
Additional Scriptures: Psalm 63:1–8; Isaiah 55:1–9; 1 Corinthians 10:1–13
MONDAY, MARCH 25, 2019
Scripture Reading: Romans 2:1–11
Additional Scriptures: Psalm 39; Jeremiah 11:1–17
TUESDAY, MARCH 26, 2019
Scripture Reading: Psalm 39
Additional Scriptures: Ezekiel 17:1–10; Romans 2:12–16
WEDNESDAY, MARCH 27, 2019
Scripture Reading: Luke 13:18–21
Additional Scriptures: Numbers 13:17–27; Psalm 39
THURSDAY, MARCH 28, 2019
Scripture Reading: 2 Corinthians 4:16–5:5
Additional Scriptures: Joshua 4:1–13; Psalm 32
FRIDAY, MARCH 29, 2019
Scripture Reading: 2 Corinthians 5:6–15
Additional Scriptures: Joshua 4:14–24; Psalm 32
SATURDAY, MARCH 30, 2019
Scripture Reading: Psalm 32
Additional Scriptures: Exodus 32:7–14; Luke 15:1–10
Week 5
FOURTH SUNDAY IN LENT, MARCH 31, 2019
Scripture Reading: Luke 15:1–3, 11b–32
Additional Scriptures: Joshua 5:9–12; Psalm 32; 2 Corinthians 5:16–21
MONDAY, APRIL 1, 2019
Scripture Reading: Revelation 19:1–8
Additional Scriptures: Leviticus 23:26–41; Psalm 53
TUESDAY, APRIL 2, 2019
Scripture Reading: Revelation 19:9–10
Additional Scriptures: Leviticus 25:1–19; Psalm 53
WEDNESDAY, APRIL 3, 2019
Scripture Reading: Luke 9:10–17
Additional Scriptures: 2 Kings 4:1–7; Psalm 53
THURSDAY, APRIL 4, 2019
Scripture Reading: Philippians 2:19–24
Additional Scriptures: Psalm 126; Isaiah 43:1–7
FRIDAY, APRIL 5, 2019
Scripture Reading: Philippians 2:25–3:1
Additional Scriptures: Psalm 126; Isaiah 43:8–15
SATURDAY, APRIL 6, 2019
Scripture Reading: John 11:45–57
Additional Scriptures: Exodus 12:21–27; Psalm 126
Week 6
FIFTH SUNDAY IN LENT, APRIL 7, 2019
Scripture Reading: John 12:1–8
Additional Scriptures: Psalm 126; Isaiah 43:16–21; Philippians 3:4b–14
MONDAY, APRIL 8, 2019
Scripture Reading: Hebrews 10:19–25
Additional Scriptures: Exodus 40:1–15; Psalm 20
TUESDAY, APRIL 9, 2019
Scripture Reading: 1 John 2:18–28
Additional Scriptures: Judges 9:7–15; Psalm 20
WEDNESDAY, APRIL 10, 2019
Scripture Reading: Luke 18:31–34
Additional Scriptures: Psalm 20; Habakkuk 3:2–15
THURSDAY, APRIL 11, 2019
Scripture Reading: Hebrews 2:1–9
Additional Scriptures: Psalm 31:9–16; Isaiah 53:10–12
FRIDAY, APRIL 12, 2019
Scripture Reading: Isaiah 54:9–10
Additional Scriptures: Psalm 31:9–16; Hebrews 2:10–18
SATURDAY, APRIL 13, 2019
Scripture Reading: Luke 22:1–13
Additional Scriptures: Leviticus 23:1–8; Psalm 31:9–16
Week 7: Holy Week
PALM SUNDAY, APRIL 14, 2019
Scripture Reading: Luke 19:28–40
Additional Scriptures: Psalm 118:1–2, 19–29
MONDAY OF HOLY WEEK, APRIL 15, 2019
Scripture Reading: John 12:1–11
Additional Scriptures: Psalm 36:5–11; Isaiah 42:1–9; Hebrews 9:11–15
TUESDAY OF HOLY WEEK, APRIL 16, 2019
Scripture Reading: John 12:20–36
Additional Scriptures: Psalm 71:1–14; Isaiah 49:1–7; 1 Corinthians 1:18–31
WEDNESDAY OF HOLY WEEK, APRIL 17, 2019
Scripture Reading: Isaiah 50:4–9a
Additional Scriptures: Psalm 70; John 13:21–32; Hebrews 12:1–3
MAUNDY THURSDAY, APRIL 18, 2019
Scripture Reading: John 13:1–17, 31b–35
Additional Scriptures: Exodus 12:1–14; Psalm 116:1–2, 12–19; 1 Corinthians 11:23–26
GOOD FRIDAY, APRIL 19, 2019
Scripture Reading: John 18:1–19:42
Additional Scriptures: Psalm 22; Isaiah 52:13–53:12; Hebrews 4:14–16; 5:7–9 or Hebrews 10:16–25
HOLY SATURDAY, APRIL 20, 2019
Scripture Reading: Matthew 27:57–66
Additional Scriptures: Job 14:1–14 or Lamentations 3:1–9, 19–24; Psalm 31:1–4, 15–16; John 19:38–42; 1 Peter 4:1–8
Easter Sunday, APRIL 21, 2019
Scripture Reading: John 20:1–18
Additional Scriptures: Psalm 118:1–2, 14–24; Isaiah 65:17–25; Luke 24:1–12; Acts 10:34–43; 1 Corinthians 15:19–26
---