The Foundry Publishing is excited to announce the release of the first two volumes in the The Wesleyan Theology Series. This new 13-book series includes topics covering: the Trinity, creation, eschatology, the church, the sacraments, Jesus Christ, the Holy Spirit, Scripture, sin, grace, salvation, sanctification, Christian ethics, and atonement. As a staple for every pastoral library, The Foundry Publishing is offering a Wesleyan Theology Series membership.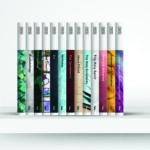 As a member you receive the following exclusive benefits:
Guaranteed 30% discount on each new and previously released book in the series.
Receive the newest release before anyone else!
Special offers and discounts on other titles from The Foundry.
Members receive automatic billing and shipping of the newest titles in the series as soon as they release. You won't have to worry about about ordering new volumes. We'll take care of it for you!