As we enter the second week of Advent, we continue to reflect the words "Come, Lord Jesus."  Timothy Gaines, contributing writer to Long-Expected Jesus and Assistant Professor of Religion at Trevecca Nazarene University, will take a few moments to introduce week two's theme, He is Lord. As we did last week, we have also provided the daily scripture passages, Sunday devotional and weekly prayer.
---
Today's Scripture Reading: Mark 1:1–8
Additional Scripture Readings: Isaiah 40:1–11; Psalm 85:1–2, 8–13; 2 Peter 3:8–15a
---
LONG-EXPECTED JESUS
They knew he was coming. From one generation to the next, the stories had been passed down as a constant reminder that they were not a forgotten people. The prophets spoke of a Messiah who would come, God's Chosen One, who would reign forever—the King of Kings and Lord of Lords. So they waited and waited, retelling the stories of Abraham, Moses, Isaiah, and all the rest—hoping the Messiah would come in their lifetime and they would be able to see the long-awaited Savior with their own eyes.
Then a strange man arrived and began baptizing and preaching repentance and forgiveness of sins. Could he be the Messiah they waited for? Could he be the one of whom the prophets had spoken? The baptizer quickly put these claims to rest. He asserted, in no uncertain terms, that he was not the Messiah, was not Elijah, was not even a prophet. Yet still the people came. They came to be baptized, and they came to hear him preach. John assured them, "After me comes the one more powerful than I, the straps of whose sandals I am not worthy to stoop down and untie" (Mark 1:7).
If they chose in that moment to believe that what John the Baptist said was truth, then the Messiah they had been waiting so long for was coming—and they might even live to see him! The words of John the Baptist carried hope. After centuries of waiting and centuries of prophecies, their patience and anticipation would at last be rewarded. Theirs was no longer a story that hinged on the past or the ancient prophets. Here in their midst was a man who claimed that the Messiah, the Lord of Lords, would soon arrive.
-Rachel McPherson
WEEKLY PRAYER
For this weeks prayer, we encourage you to recite the words of by St. Francis of Assisi.
Lord, make me an instrument of your peace. 
Where there is hatred, let me sow love; 
where there is injury, pardon; 
where there is doubt, faith; 
where there is despair, hope; 
where there is darkness, light; 
where there is sadness, joy. 
O, divine Master, 
grant that I may not so much seek 
to be consoled as to console; 
to be understood as to understand; 
to be loved, as to love. 
For it is in giving that we receive, 
it is in pardoning that we are pardoned, 
and it is in dying that we are born to eternal life.
---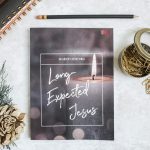 Due to the overwhelming response to Long-Expected Jesus, we have sold out of the devotional book, but the ebook is still available for purchase here.