I was first introduced to Ash Wednesday in college. We were attending the M-7 conference in Kansas City, and some friends and I decided to attend the Ash Wednesday service at the Episcopal church across the street. It was a service unlike any I had attended before. The focus on mortality, on fasting, on how to connect deeply with the life and death of Christ was truly life-changing for me.
That Lenten season was powerful. I learned new things about myself and my relationship with Christ. The disciplines I practiced during those forty days opened me to the voice of Christ in profound ways. When Easter arrived, it felt more profound and more celebratory than it ever had before.
It has been eleven years since my first observation of Lent, and I continue to observe Lent each year. One thing I have added to those observations is the joy of sharing Lent with others. I've been able to introduce two congregations to Ash Wednesday services and fasting through Lent. Watching them deepen their discipleship with Christ through this practice has encouraged me to share with others.
Experiencing Lent is a project that enables me to introduce others to this beautiful part of the church year in a broader way. As I wrote the sermon outlines for each week, I prayed and thought about my first time truly observing Lent, and my hope was that others would have their discipleship deepened as well.
We often want to think that the journey ends at the cross, and in a way it does, but we must remember that we are to take up our own crosses too.
One of the most compelling things about Lent is its unapologetic focus on sin and death. As a culture we try to avoid anything to do with death, even to the point of masking signs of aging. Lent, however, calls us not only to acknowledge death but to embrace it. Lent is a forty-day journey to the cross. We often want to think that the journey ends at the cross, and in a way it does, but we must remember that we are to take up our own crosses too. We are to confront our own deaths and lay down our lives for others. There is a hymn in our hymnal that asks, "Must Jesus bear the cross alone?" and the answer is "no, there's a cross for everyone, and there's a cross for me." Lent reminds us of our cross. Of the places we need to sacrifice, of the sins we need to give up. It also reminds us that discipleship is not all roses but is a difficult path. To follow Jesus is to follow him on the path to the cross as well.
As each week moves forward through Lent, we are reminded more and more of that. Beginning with confronting our mortality on Ash Wednesday: "for from dust you were formed, and to dust you shall return." We will die. Then we move closer as we face what betrayal looks like, what servanthood looks like, and, ultimately, what sacrificial death looks like. All of that must be experienced before knowing resurrection. All of this happens before the alleluia can be sung and the shrouds removed. There must be death and grief before there can be life. That is the great scandal of the gospel—that, out of death, life comes. Resurrection is meaningless if death is nonexistent.
But we know death exists. Despite our attempts to avoid it, slow it down, or hide it, it comes. It creeps into the corners and bangs down our doors, and as much as we want to pretend it isn't there, it is. Lent brings all of those feelings we try to hide to the surface. It asks us to sit there for a while. To confess the ways we have fallen short. To confess our fears of dying. To cry tears of grief, that we might ultimately acknowledge our complete need for a Savior.
And after sitting, after sackcloth and ashes, after confessions and tears—it is only then that the alleluia sounds and that resurrection breaks through. When Sunday morning comes, it comes with bright light and rejoicing because we know what it is to experience death, to feel grief, to long for something to grow in a desolate place.
So while Lent is a journey to the cross, it is ultimately a journey toward resurrection, to hope, to joy—something we so desperately need in our hearts and in our world. I pray that you will join me this season and dive headfirst into the depths of the uncomfortable nature of sin and death, that you may also experience the fullness, joy, and hope of resurrection.
---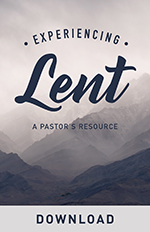 Experiencing Lent is a resource for church families based on the Lectionary. It has been intentionally created for the blue-haired, the empty nesters, those with very full nests, single folks, millennials, teens, kids, and anyone else one might find in a church family.
Beginning Ash Wednesday and ending Easter Sunday, Experiencing Lent provides resources for pastors and communities to move closer to Christ through worship, prayer, reading, and participation. Purchase and download this resource for only $24.99.