"Pastor Jared, how do I know what career God is calling me to pursue?"
"How does my faith shape my life as a student and friend at school?"
"I have a passion for taking care of the planet. Should our faith shape how we care for it?"
One of my favorite responsibilities as a youth pastor is helping teens discern how their faith informs the large and small daily decisions they make. Whether it's these questions or the myriad other issues they routinely encounter, they already recognize that their faith should play a part in the decisions they make. But teens aren't the only ones who need help with this kind of discernment.
All Christians are invited to consider how our faith shapes our decision-making. But not all of the voices we turn to are themselves shaped by faith. Whether it's an article we read on Facebook, an episode from our favorite podcaster, the political party we identify with, or the news outlet we prefer, we are constantly bombarded with different voices telling us how we should live our lives. But as Christians, our ethics should look different from the world around us. It shouldn't succumb to the pressure of fast or easy answers. Instead, it should embrace the slow, complex, cross-shaped way of Jesus. Therefore, our goal in all of our decisions is not to benefit ourselves, our community, nation, or even doing the right thing. Instead, our goal is, as Tim Gaines has said in Christian Ethics, to "align ourselves with what God is doing to make creation new."
But as Christians, our ethics should look different from the world around us. It shouldn't succumb to the pressure of fast or easy answers. Instead, it should embrace the slow, complex, cross-shaped way of Jesus.
Christian ethics reflects the transcendent, incarnational nature of our God. It's transcendent because it goes above all ethical debates in our world by rooting all decisions in God and God's desire to bring new creation to our world. But it's also incarnational because "the Word became flesh and made his dwelling among us. We have seen his glory, the glory of the one and only Son, who came from the Father, full of grace and truth" (John 1:14). Therefore, Christian ethics is embodied both in our daily routines and in extraordinary moments by seeking God's desire for new creation. Because our faith is incarnational, we can't shy away from ethical conversations and decisions in our communities. As faith leaders, we have the responsibility to help guide, shepherd, and form our communities in the way of Jesus. Here are some ways I see Gaines's Christian Ethics helping to guide and form communities in the way of Jesus:
1. Book Study/Discernment Group. As Christ's body, we affirm that our faith is corporate. One way you can facilitate this resource is through a book study, where you read a chapter or two for each meeting and discuss the contents together. If you do this, I suggest having each participant think through a situation they need help discerning. Then you can discern together as a community. Prayer and silence are also great practices to incorporate in this group. Finally, I also see this as a helpful resource for church boards or staff members to go through to help them discern the various ministry decisions they face.
2. Sermon Series. Gaines splits the book into two parts. The first is "Beginning the Work of Christian Ethics," where he lays the foundation of Wesleyan ethics. I could see pastors preaching through these chapters by inviting their congregation to reconsider what it means to create an ethic. The second part is "Discerning the Work of Christian Ethics," which contains Discernment Dialogues to help readers think through the ethics of various issues facing the church, such as race. After the sermon series, facilitate round-table discussions over the Discernment Dialogues.
3. Part of a Larger Discipleship Strategy. My local church is using Christian Ethics as part of a broader strategy of discipleship to help our people understand what it means to be Christians, and specifically Nazarene Christians. We hope our community of faith will begin to see and understand how theology and spirituality shape our lives. We are beginning this discipleship strategy with The Foundry Publishing's revised and updated Articles of Faith: What Nazarenes Believe. After that, we plan to offer opportunity to read and discuss Christian Ethics. We are hopeful this will lead to small group studies of other volumes in The Wesleyan Theology Series as well.
As a youth pastor, I am currently using Christian Ethics as part of a larger discipleship strategy with our older students. I lead a small group for juniors and seniors called Encounter. In this small group, students commit to attending meetings, investing in younger students, serving in our church, serving in our community, and meeting with me. The goal of the group is to cultivate a love for Christ and Christ's church. Encounter is a two-year commitment. The first year focuses on spiritual formation and leadership, and the second year focuses on what it means to be the church and how we can live out our identity as Christ's body. At the end of each year, those who have completed both years can go on a trip whose focus is spiritual formation and dreaming about different possibilities for being the church.
Christian Ethics is part of the curriculum for Encounter's second years, and serves as a conversation partner to help us discern what it means to be the church. We read two chapters at a time and discuss them at our meetings. I often write questions beforehand to help guide the conversation in case things stall, but often the material itself shapes the direction our conversations take. I have asked each participant to identify one situation where they need help with discernment. After we get deeper into the meat of the book, we will take some time at each meeting to discuss those situations and see if clarity arises.
My teens have so far enjoyed this resource, and we look forward to continuing to use it as a conversation partner. The fact that it was not written specifically for a youthful audience makes it all the more valuable as a resource that teens, young adults, and older adults can all use to help themselves discern how their faith shapes their decisions.
---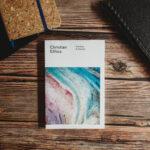 Christian Ethics is the latest volume in the The Wesleyan Theology Series and is now available on TheFoundryPublishing.com.